HMS LOVE
bm 1999
Designed by: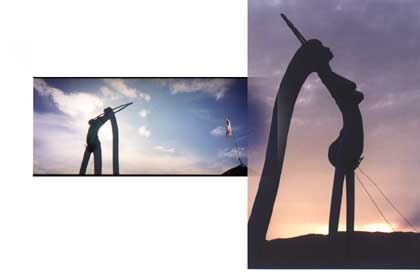 WATER WOMAN
1997/1998
Designed by Ray Cirino
THE STUPA
BM1999
Designer : Pepe Ozan
Rebar/Playa Mud
Opera Stage
ORBIT
bm 1999
Designer
Michael Christian
BONE ARCH
bm1997
Designer: Michael Christian
Rebar, cow and horse bones
Rebar frame tied with wire, old bones found in desert cover
whole frame.
CHAPEL OF THE BURNING BOOK
bm98
Designed by Finley Fryer
Scaffolding frame/unistrut/ welded tubing
38 panels / plastic /glass/ latex acrylic
1800 tubes of latex used for panels
SEEMEN
bm98
Designed by Kal Spelletich
Robotic sculptures
THE ONE TREE
bm98
Designed by Dan Das Man
Propane fueled fire with water sprinklers
AIR HUG
bm98
Designed by Tony Bondi
(human car wash) wood frame with paint brushes
stuffed animals furry/ fuzzy things to brush against as you walk through.
cost $2100. including the cost of tools used to construct it. There were feather dusters in it, and paint brushes, and play soccer balls, and mylar curtains, and bead curtains, and rhuscia (the straw-like material) and keychain (at $.10 a foot)The structure is presently offering kicks to little kids at a Vegas Day-Care Center.
_____________________________________________________________________________
I have tried to be as accurate as possible with descriptions and information.
If you see any inaccuracies or have better pictures please Email me at:
E-mail comments to email us